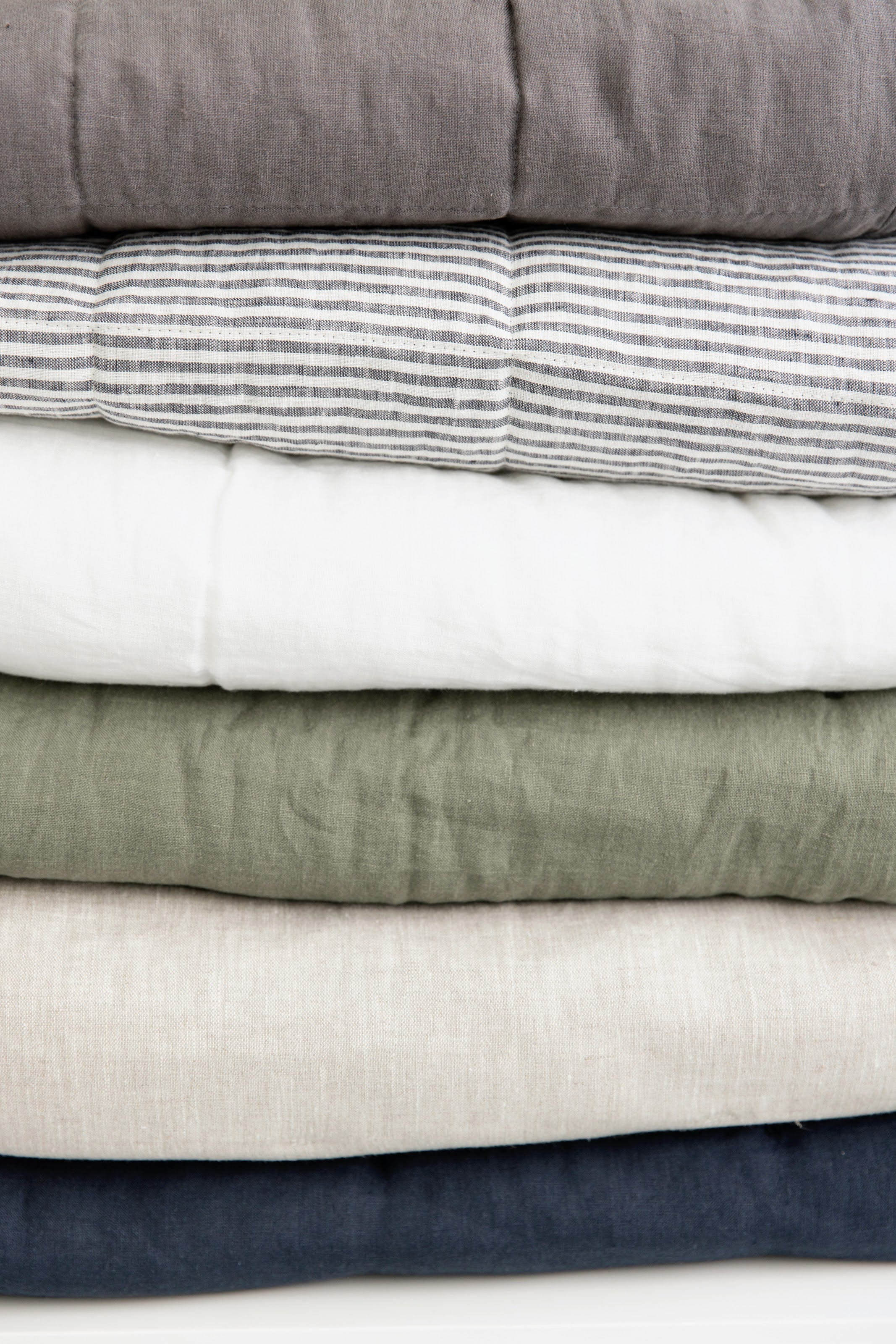 Linen is a beautiful natural fabric that is low maintenance and will last a very long time. It is a material that is durable, resistant to bacteria, and breathable for sleeping. Linen washes up better than any other natural material. The more it is washed, the softer it will become. We have created a guide to help you care for your linens to ensure they last. 
Washing 
To ensure your linen fabric lasts its maximum lifetime, it is best to hand wash or machine wash at a low temperature. Wash with a gentle, all-natural detergent that is free of scents, and brighteners. It is essential to avoid detergents containing brighteners or optical whiteners. You should never bleach, soak, or use harsh chemicals on your linen. It is crucial to avoid dry cleaning. We highly recommend washing with a detergent that is specific linen detergent, or with a detergent designed for baby clothes. Always avoid detergents that have fabric softeners. Most softeners when used on linen will leave a residue. 
Drying
Linen can be line dry or tumble-dried on a low delicate cycle. If using the line drying method, it is important to minimize direct and prolonged sunlight to prevent the fabric from fading. If you are going to tumble dry your linens, avoid using a hot setting, and opt for a low-heat cycle. Pull the linen out promptly when the dryer has finished and lay it flat to avoid extra wrinkles. You can also pull out of the dryer when it is damp to obtain a relaxed look, just make sure that there is enough air ventilation in the room to allow for proper drying. 
Ironing
Linen is known for its beautiful natural crinkle texture, but there will be times when you may want to iron your linen. Linen will iron best when it is ironed on the steam setting on medium heat. 
Stains
Stains lift easily in linen. Always remember to treat the stain before you wash. Avoid rubbing the fabric as this can push the stain deeper into the fabric. To spot clean we recommend to go for dish soap. Wet the spot with water and add a little drop of dish soap on top. Dab lightly a few times then wash with cool water.
---